First thing is, with tragic predictability, first - you should go to
Luke Envoy's
myspace page and listen to ''So'', which is forthcoming on
Tempa
. It makes me want to bubble and flex, whatever that means. Longvoy's
latest actual release
''M.U.G.E.N.'' is bloody good too, a real swaggering badboy and the flip is a militant head-banger cooked up with the help of
Headhunter
.
''Trapdoor'' could well be one of the last tunes Headhunter makes in that ''being smashed over the head repeatedly with a length of iron piping'' style, if clips from
his forthcoming album
are anything to go by. His latest bits, first previewed on Mary Anne Hobbes' show
earlier this year
, seem much less compacted and brittle, both sonically and rhythmically.
While I was writing this the album became available (on CD)
here
... And listening to clips I think I was quite premature/entirely wrong in announcing the death of the fist-pumping Headhunter style. Nevertheless, it all sounds immense, particularly ''Lifeform'' and ''You Say''.
Well, fuck me sideways if second thing isn't second! Download this mix by the man like the myth like the
Braiden
if you know what's good for you. This is the kind of mix that will quickly turn you into one of those people who hate what's good for them... I suppose bands like Snow Patrol are quite good for you, just like vegetables, a gym membership and not smoking 56 fags a day.
Give me Ruff Sqwuad, microwave spag bol and lung cancer any day of the week.
NB: I'm sure Braiden's actually quite a healthy and well adjusted chap. But I'm not.
Go
HERE
for the download
"My first studio mix for a couple of years, covering a range of styles and tempos. Painstakingly thought out, lots of mixing detail, some 3 deck action as well. Recorded with technics 1210s and pioneer CDJ200 with a pioneer DJM500 mixer. A few teases in the tracklist. Listen to find out! Don't forget catch my RinseFM show and Podcast (new time slot being arranged) and check the myspace at http://www.myspace.com/676549. Peace and Enjoy.."
Burial - Forgive
Darkstar - Squeeze The Lime
Mihalis Safras - Doo Doo
Claude Von Stroke - Who's Afraid Of Detroit?
Mihalis Safras - Colpo Grosso
Dexter - Midnight Cruiser
TRG - Less Music
Headhunter - Come Down
Ruff Sqwad - RSMD
Shut Up And Dance - Epileptic (martyn rmx)
Headhunter - Physics Impulse
Joker - Gullybrook Lane
Darkstar - Thugged Out 9
TRG - Missed Calls
Groove Chronicles - Stone Cold
The Tuss - Rushup i Bank 12
Dub Child - Take Me (boxcutter remix)
Paul Kalkbrenner - Atzepeng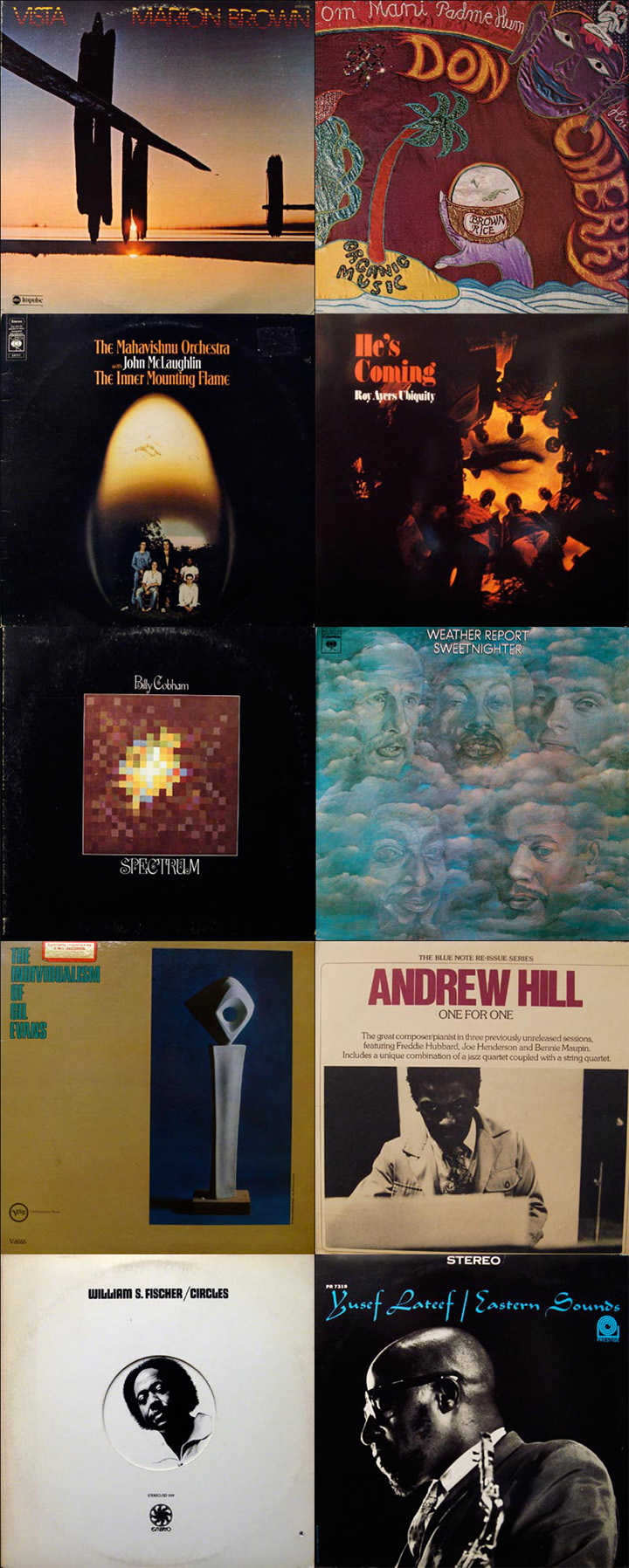 Also floating my penis abreast a wave of sound currently is a mix of jazz tunes compiled by
Woebot
. It's part 48 of the amahhhzing
Blogariddims series
, and should be downloaded by you right about tomorrow or sometime this week. In his own words:
''
Shunted off the stage and smoking in the alley. For a while Jazz had something like an Embassy but then its proponents drifted on to Reggae and Brazilian music. Now no-one (apart from you dear listener) gives a shit about it..."

Link HERE


1. Yuseef Lateef: Plum Blossom
2. Andrew Hill: Illusion
3. Gil Evans: The Barbara Song
4. Marion Brown: Bismillah Raxmani Rahim
5. Don Cherry: Brown Rice
6. Mahavishnu Orchestra: You Know You Know
7. Roy Ayers: We Live In Brooklyn
8. William Fischer: Circles
9. Weather Report: Non-Stop Home
10. Billy Cobham: Stratus
The tune about 12:16 in is totally tubular.
Finally, a mix from DNAudio head honchman Break from Tuesday's MAH show. I don't really keep up with DNB anymore but everytime I've seen Break DJ in the past I've been blown away... basically he can be a bit one-trick pony sometimes but it's a pretty effective trick : it's like if David Blaine could

only

chop his own penis off and make it appear inside the Vatican. Maybe not that good, but you get the idea... Anyway, this mix is pretty interesting, there's a few downtempo bits which might supposed to be dubstep. The good thing about that is, if they ARE supposed to be dubstep, they're not really obvious about it i.e. it isn't wobble central...

Right Click and Save HERE


Break (Feat Kyo) - 'Last Chance' (Symmetry Recordings)
Break - 'Lost n Found' (Symmetry Recordings)
Break - 'Reach Out' (Symmetry Recordings)
Break & Silent Witness - Abtn (Dub)
(Tease - Nico/Fierce/Break - Draw - Quarantine)
Break - 'Hooked Up' (Symmetry Recordings)
Shy Fx - 'Bambaata' Break Remix
Break - 'Thin Ice' (Symmetry Recordings)
Noisia - 'Peacock Strut' (Dub)
Break - 'It's Coming' (Symmetry Recordings)
Break - 'Is This What You Want?' (Symmetry Recordings)
Portishead - 'Machine Gun' Silent Witness Remix
Break - 'Symmetrics' (Symmetry Recordings)
Break feat. SP - 'Too Hot To Hold' (Symmetry Recordings)
... Phew... Now I'm going to wait ten minutes before I post Spyro and Maximum on Rinse last night...